Manchester Orchestra news
Atlanta's Manchester Orchestra follow their recent triumphant headline tour with the full UK release of their second album, Mean Everything To Nothing on Columbia Records on September 7th. The band will release a special ltd edition 500 only collectors' 7″ single of 'I've Got Friends' on August 31st.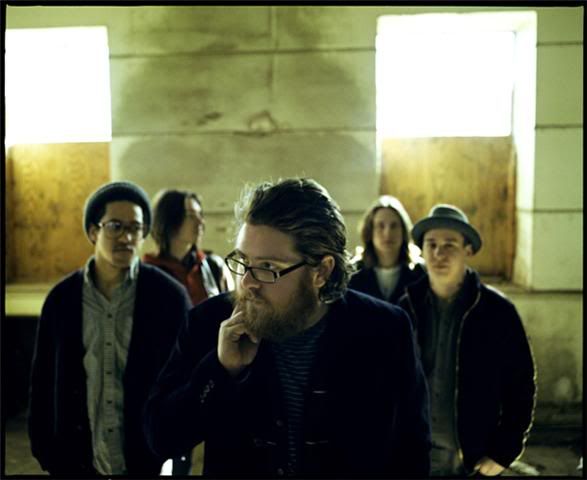 Already picking up massive support in the US across rock radio, Mean Everything To Nothing, is everything you want a rock record to be: raw, urgent, emotional, and 100 percent authentic. "There is nothing fake about this record," says frontman and lyricist Andy Hull. "There's not one fake sound on it. We recorded it live because we wanted it to sound live and loud!"
Inspired by the pounding, primal assault of Weezer's Pinkerton, Nirvana's In Utero, and Foo Fighters' The Colour and the Shape, this young band has created its own version of what a classic rock album should sound like, complete with fiercely beautiful melodies, shifting guitar and keyboard textures, loud/soft dynamics, and an urgency in each band member's performance, especially Hull's cathartic vocals.
The drama is magnified by the fact that the album's first six songs bleed into one another without stopping. Then the album pauses and down-shifts into less relentless yet equally gripping territory on songs from "I Can Feel A Hot One" (which was featured on Gossip Girl last September), to the ruminative closer "The River."
A fully realized album, Mean Everything To Nothing is the sound of a band coming into its own after spending 300 days on the road in support of their debut album, 2007's I'm Like A Virgin Losing A Child. After more than a year of touring with such artists as Kings of Leon, Brand New, Clap Your Hands Say Yeah, Say Anything, and Black Rebel Motorcycle Club, as well as performing their own headlining shows, Manchester Orchestra has become a powerful and well-oiled machine.
The band were supported in the process by their producers, studio vet Joe Chiccarelli (The Shins, My Morning Jacket, The Raconteurs) in conjunction with longtime friend and producer Dan Hannon. Newly signed to Vector Management (Kings Of Leon).
The band returns to play at this year's Reading/Leeds festival later this month. (Reading – 28/8 | Leeds – 30/8). Expect to be blown away in the wake of their immense live show, recently dubbed by Kerrang! Magazine as "one of the best live shows you will see all year."
Frontman Andy Hull will perform as side project Right Away, Great Captain! in August
27th August – Andy Hull 'Right Away, Great Captain!' solo show at London Water Rats
28th August – Reading Festival (NME / Radio 1 Stage)
30th August – Leeds festival (NME / Radio 1 Stage)
Dates with Biffy Clyro
28 Oct 2009 St George's Market Belfast
29 Oct 2009 Olympia Dublin
1 Nov 2009 Caird Hall Dundee, Scotland
2 Nov 2009 Barrowlands Glasgow, Scotland
3 Nov 2009 Barrowlands Glasgow, Scotland
4 Nov 2009 Academy Newcastle
6 Nov 2009 Academy Leeds
7 Nov 2009 Apollo Manchester
8 Nov 2009 Rock City Nottingham
9 Nov 2009 Academy Birmingham
11 Nov 2009 UEA Norwich
12 Nov 2009 Brixton Academy London
15 Nov 2009 University Cardiff
16 Nov 2009 Guildhall Southampton
Warning
: getimagesize() [
function.getimagesize
]: Filename cannot be empty in
/var/sites/r/redhotvelvet.co.uk/public_html/wp-content/themes/church_40/includes/hotoffpress.php
on line
38